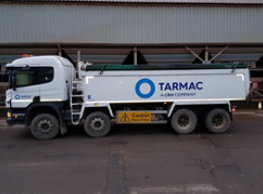 Tony Bryant Haulage is an owner driver business who works exclusively for Tarmac as a franchise operator. We have been in business as a Tipper company for 8 years and have always had a close Business infinity with Tarmac.
The business is based at Harlow Tarmac operating centre and the business is engaged in delivering asphalt exclusively for Tarmac. The business first heard about FORS thorough Tarmac in 2014 and the business was keen to engage in all that FORS had to offer, including FORs e-learning and training and the use of member benefits. This has meant that as an owner driver with one 32000 kg tipping vehicle that I have seen my accident rate remain zero over the last 5 years.
I had my first Bronze audit in 2014 through Tarmac approved auditors as Tarmac had Whole Fleet Accreditation. I was please when the business passed on the first occasion. As a Tarmac Franchise FORS bronze, Silver and Gold was required by Tarmac in order to allow us to work at customer premier sites.
Once I had achieved Bronze, I made the dession to work towards Silver in 2017 and then onto Gold in 2017. This now means that as a Tarmac Franchisee my vehicle is able to work on Tarmac's premier sites.
As a member of FORS and a small operator of only one vehicle I have been unable to take advantage of the FORS member offers, but have found that FORS associated tools available to members such as, e-learning etc. has been of benefit, a I would like to think that this has helped my business benefit in such areas as maintaining my zero accident rate, along with helping to monitor fuel performance of my vehicle.
"My accident rate has remains a zero in the last five years." – Anthony Child – Owner driver.
| | | | | | | | |
| --- | --- | --- | --- | --- | --- | --- | --- |
| | MPG | Incidents per 100,000 Kms | CO2 | NOx | PM10 | Number of PCNs | Proportion of fleet that uses alternative fuels |
| 1/9/16 – 31/5/17 | 7.62 | 0 | 0 | 0 | 0 | 0 | 0% |
| 1/1/17 – 31/12/17 | 9.17 | 0 | 0 | 0 | 0 | 0 | 0% |
| 1/1/18 – 31/12/18 | 9.22 | 0 | 0 | 0 | 0 | 0 | 0% |
| Percentage improvement | 0.54% | 0% | 0% | 0% | 0% | 0% | 0% |
All drivers are required to undergo a comprehensive medical review each year. Any driver who declares any medical issues is required to go to a Doctor and requires written proof that they are fit to drive an HGV. In addition to this each driver is required to undergo an in depth medical each 5 years before obtaining an HGV licence.
Whilst the company is a small company with only two driver, including the owner. The company do have a policy on the recruitment of drivers. Should the occasion require that we employ another driver in the future, we would recruit the best person, in line with the companies policy, which includes recruiting from schools, armed services etc.
Our vehicle is fitted with quite bodies so as to make loading and unloading more quiet and both drivers are informed about the need to adopt quiet measures during the hours of darkness, such as silencing radios, and disabling audible reversing noise.
The company have considered alternative modes of transport, however as a franchised contractor we are unable to buy our own vehicles without the consent of Tarmac.
Tarmac have looked into the viability of alternative fuelled vehicles, and it is hope that a viable alternative will be found in the future.
Tarmac as a contractor do use alternative modes of transport, such as conveyors, trains and barges.
As part of my commitment to the future of my business has brought a new vehicle so as to ensure my commitment to the environment. The a new vehicle, which will be delivered in May 2019. This vehicle is Euro 6 compliant and is fully equipped with 360 degree cameras (including recording systems) Over height detectors, load cameras, weigh loader, load cameras, along with audible left turn warning and side sensors.
It is envisaged that this vehicle will be replaced on a rolling program of 3 to 4 year cycle. Although, currently there is no viable alternative fuelled replacement vehicle. My business will actively seek replace with this sort of vehicle as soon as they are available on the market.
I currently have one 32000 kg Tipper vehicle and as such I promote FORS through our logo which is on the side of the vehicle.
The business does not have produce any paper work or social media accounts, so am unable to promote FORS in this way, however I do send a letter to any customers, promoting FORS to any customers and outlining our commitment to FORS.
As a Gold FORS member and a Tarmac franchised operator Gold allows us to work with Tarmac at there premier sites, which gives us competition, against any Tarmac franchised operator who is below the Gold standard.