Veolia has had a presence in London since 1992 and we now provide recycling, urban cleaning, waste management and grounds maintenance services to 11 London Boroughs, including Westminster, Camden, Tower Hamlets, Lambeth, Brent and Southwark. We also implement creative waste treatment and recovery solutions for organisations large and small, including Claridges Hotel, Kingston University and the Metropolitan Police. Our London Fleet is circa of 1400 vehicles ranging from LCV, RCV, articulated Lorries and HIABS.
Fleet Director Gary Clark explained that through FORS membership Veolia have improved our road safety record, decreased PCNs and are now working towards improving fuel consumption by the launch of our New Driver Training Programme.
In 2010, after being approached by TFL, we decided that FORS mirrored Veolia's own ethos in that it recognised Fleet Operators that commit to sustainable best practice and improvements to safety, environmental impact and efficiency; all of which Veolia continually strive to improve upon. We also realised that Veolia already met or exceeded the requirements required by FORS.
Guided by FORS Veolia passed our FORS Bronze first time around. The use of the free e-learning packages and urban cycle safety training helped raise driver awareness, which then encouraged us to proceed to the Silver accreditation which made us review both the equipment in our vehicles and our safe working practices. We also included Safe Urban Driving (SUD) as part of our Driver CPC Course.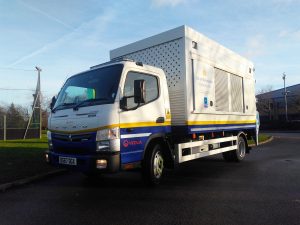 Once we had achieved Bronze Veolia made full use of the benefits provided by our FORS membership. Nigel Barretto (Regional Fleet Compliance Manager – London) completed all the FORS workshops to become a dedicated FORS practitioner:
'I found the practitioner workshops that I attended to be very informative and interesting, giving everyone who attended the opportunity to share good practices, knowledge and experiences, it also helped towards my CPD'  Nigel Barretto, Regional Fleet Compliance Manager – London.
The benefits of being a FORS member has meant that Veolia were able to utilise the e-learning Cycle Safety module, which complimented the on-cycle hazard awareness training that our Drivers attended:
'Our drivers have benefited from the FORS e-learning Cycle Safety module which is demonstrated by the 22.91% reduction in vehicle incidents' Gary Clark, Fleet Director
Once we had obtained Bronze accreditation there was no question that we would not proceed to Silver and then on to Gold, as Local Authorities are now mandating the FORS accreditation for their Contractors. Having the FORS Gold accreditation also enhances our reputation in Waste and Recycling Industry.
| | | | |
| --- | --- | --- | --- |
| | km/litre | Incidents per 100,000 Kms | Number of PCNs |
| Jan-Dec 2015 | 1.13 | 88.62 | 847 |
| Jan-Dec 2016 | 1.08 | 68.32 | 722 |
| Percentage improvement | -4.42% | 22.91% | 14.76% |
All Drivers are required to complete a Driver Declaration Form on an annual basis along with a periodic Eye Test. All new Drivers complete a Health Assessment Questionnaire and the relevant addendum forms which are then sent to our Occupational Health provider to process before a Fitness to Work certificate is issued.
Veolia actively work with local councils to recruit local unemployed people, those that have a criminal record or were previously homeless. Veolia have also engaged with the REME Association Job Agency and Career Transition Partnership to assist in finding employment opportunities for those leaving the armed forces.
Veolia can demonstrate that they are taking measures to reduce noise pollution by specifying that new vehicles have quieter engines, our 7.5 tonne and above vehicles are all fitted with Brigade white noise reversing equipment, also that the materials used in the construction of the vehicle bodies can dampen the impact of when glass is tipped into the compartment, bin lifting equipment is maintained and serviced to reduce noise pollution during early morning collections.
We now move all of Tower Hamlets waste consignment / load and the majority of East London Commercials waste by barge from Northumberland Wharf to Cory's incinerator at Belvedere, Greenwich. We have also invested heavily in both electric and CNG vehicles as part of our commitment to alternatively fuelled or powered vehicles.

With the growing importance of air quality in London and the ULEZ we are continually working to enhance our customer's position. This said, we are now amidst the development of the first 26 tonne fully electric RCV's and will see the first vehicle introduced to London in Q2 2018 with zero emissions now firmly in our target.
FORS Gold accreditation is important to Veolia, as it ensure that we maintain our best practice profile with our Customers and stand out from our Competitors.
Links to Veolia's social media:
Veolia UK: Twitter 
Veolia UK: LinkedIn
Veolia UK: YouTube 
Please note: All published FORS Gold case studies have been submitted by the accredited company named above and transcribed verbatim