We first became aware of FORS supplying for London 2012 and Crossrail projects and were introduced to the scheme through our close working relationship with several main contractors.
As a company we always have compliance, safety and the environment high on our agenda and the bronze accreditation and subsequent silver was awarded to us first time. FORS provided invaluable training, tools and constant advice to assist in improving our systems and policies. FORS has helped us to understand and analyse our data in a professional way.
All our drivers have completed the FORS e-learning modules, which has led to reductions in speeding, over revving and harsh breaking generating notable savings in fuel usage and vehicle maintenance. We have recently made the most of the free FORS Practitioner and Road Risk Champion courses.
We use an in-house system to closely monitor idling time; by showing this information to our drivers they have been able to understand the impact idling time has on the environment, and subsequent fuel wastage. We also ran a driver campaign using information gained from http://www.llecp.org.uk/ which included an email bulletin, a notice board poster and appendix to our driver hand books.
This information has encouraged them to reduce idling time by 29.3% in the last 12 months. We aim for a zero tolerance on unnecessary idling.
We are now able to plan our driver's routes using an in house system to reduce unnecessary road miles between deliveries which has relieved the driver of time pressures and stress resulting in less speeding offences and accidents in the last 12 months.
In 2017 our fleet size increased and our driven miles went up as we covered a wider area, using  telematics, analysing our data and focusing driver training on fuel usage, environmental impact and safe driving we are proud to show that although are fuel usage is now greater we have improved our MPG by 0.6%
| | | | |
| --- | --- | --- | --- |
| | Miles Driven | Fuel used (in Litres) | MPG |
| Jan –Dec 2016 | 576000 | 75728.00 | 34.58 |
| Jan – Dec 2017 | 604500 | 78938.00 | 34.81 |
| Percentage improvement | 4.94% | 4.23% | 0.6% |
We have recently introduced five new Euro VI 3.5 ton vans to our existing fleet. These are the most fuel efficient and environmentally compatible vehicles in their class. Each vehicle has been fitted with four way cameras to reduce blind spots and close proximity sensors which alert the driver to potential hazards. They also have switchable reversing sirens which together with class leading low engine noise coupled with a company policy for quiet out-of-hour's deliveries show our commitment to minimising the impact of delivery noise levels within the community.
Our operating centre is located on a large distribution park adjacent to a busy main road. Our operating hours are 8am until 5pm but we do not accept deliveries after 2:30pm. This helps reduce traffic around our building at a critical time. Residential properties and schools are not within the route of our traffic plan, but we do route our deliveries away from a left turn across a cycle lane.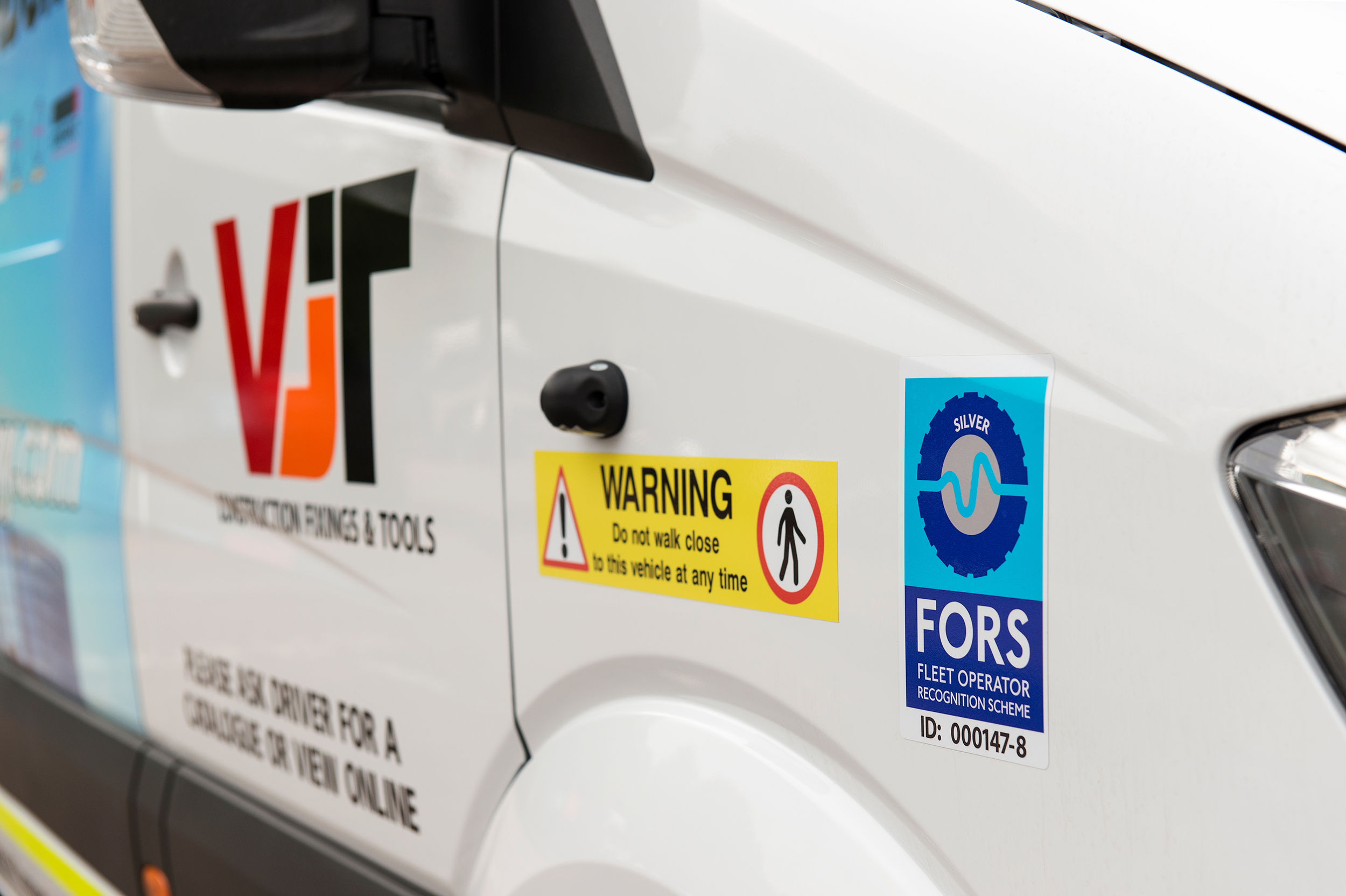 Unfortunately as we have a minimum of 120 mile round trip from our head office to our first delivery point and some vehicles travelling up to 270 miles a day, we are unable to replace any of our fleet with electric or Hybrid. The new Euro VI engine vehicles have had a huge impact on reducing our carbon foot print and have increased MPG across the fleet. We aim to have all vehicles to Euro VI standard by mid-2018.
We will continue to take advantage of all that FORS membership offers; progressing to Gold is about continual improvements and we are always looking to move forward.
Twitter link – https://twitter.com/vjtechnologyuk
Facebook Link – https://www.facebook.com/vjtechnologyuk/
Linkedin – https://www.linkedin.com/company/12149789/
YouTube: https://www.youtube.com/channel/UC8hYFsSENV-tXCt5zRmaakA
Please note: All published FORS Gold case studies have been submitted by the accredited company named above and transcribed verbatim.