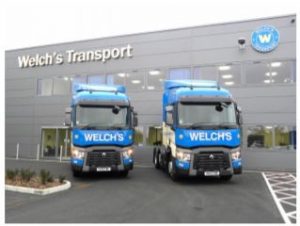 Since 1934 Welch's Transport has been caring for their customers in East Anglia and the East Midlands with a wide variety of distribution services including our pallet network, hazardous transportation, storage facilities along with abnormal load transportation and machinery
relocations.
The Welch Group has been providing its customers with bespoke services since 1934. Our company ethos has always revolved around dealing with customers, suppliers and partners in a straightforward, open and honest manner. We offer the speed and reliability of a large company without sacrificing customer care and attention to detail, providing solutions that are both cost effective and fit for purpose. It's what we like to call our 'family values'.
As a transport company we are committed to provide a safe working environment for ouremployees whilst maintaining an efficient and economical service to our customers. We were made aware of FORS by various websites, TFL, and some of our suppliers. Once we started to investigate the scheme, we thought that this would be the perfect opportunity to prove and show our commitment to managing WRRR Work Related Road Risk.
FORS has also given us the opportunity to tender for more work for our high profile customers and we have since been successful in winning these contracts. Upon completion of our first application for Bronze we learnt more on how to make improvements on our systems already in place, along with taking a good look at our policies for more ways to make us a better FORS member with an ever-improving fleet by implementing better practices.
Following on from the Bronze accreditation, this encouraged us as a group to continue the journey. To lead from the front acting as an example to all other hauliers showing that the FORS Gold accreditation is achievable.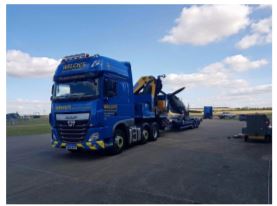 Welch's Transport Ltd has a dedicated FORS Manager who has attended all the FORS Practitioner Workshops and emphasises the need to ensure that all our policies and procedures are in place and communicated across the group from drivers to Senior Managers. As a group we utilise the toolbox talks along with the use of posters, which are displayed in driver tea rooms and in our social workspace on our own HR system to highlight and minimise the risk to vulnerable road users. We have made use of the FORS practitioner workshops and will have in total 2 Managers and our Training Officer at Practitioner level by the end of the year.
"One of the main benefits is the funded training provided for all Managers and Drivers. Plus working towards FORS Gold has helped us to keep a continued focus on our policies and procedures along with managing our Work-Related Road Risk." – Julie Payne Operations Manager
Prior to FORS we had always maintained our fuel, incident and PCN data to enable the Management team to be fully aware of the cost implications of running heavy vehicles. Since becoming a FORS member and the additional data required to include CO2, NOX and PM we
now have a better understanding of the impact on our operations and continue to record/work on our performance levels.
No. of Vehicles
KM's
CO2

Accidents/

collisins

Number of PCNs
Year 2017
9
361,081
267
1
1
Year 2018
9
305,239
247
1
1
Percentage improvement
0%
-15%
-7.4%
0%
0%
• The Welch Group believe that the health of all our employees must be at its highest in order to prevent road accidents and minimise any risk. In order to ensure good health our employees are required to fill out a health questionnaire along with 6 monthly eye tests carried out at each depot using VU test http://www.vutest.com, they are required to read out 5 numbers plates at the recommended distance with results being recorded and held on each drivers HR profile signed off by a Manager.
• When it comes to the recruitment of drivers we advertise locally and, on our website/social media pages. Also, we hold apprenticeship days to encourage new people into the industry and offer the training required to bring them up through the ranks to gain their C+E licence. We have found our apprenticeship days successful and since we have held these, we have recruited 13 drivers into the industry since its inception in 2015. We also encourage others into the industry will Traffic Office and HGV Technician apprenticeships.
• To reduce noise levels, we will introduce the anti-idling technique which we observed from the toolbox talk on the FORS website along with recording vehicle idling using our telematics system. This requires our drivers to switch off their engine at the appropriate time, when the vehicle is stationery for a long period, this also helps our fleet save on fuel.
• We have investigated using alternative vehicles and due to the nature of our operation alternate modes and/or vehicles are currently not suited, we will however as a group continue to look at ways to further reduce our carbon footprint. The most likely starting point will be electric 7.5t vehicles which operate as radial vehicles for our pallet networks. Our future plans here at Welch's Transport are to continue to improve our fleet of vehicles by upgrading to Euro VI, this combined with close monitoring of our telematics system to look for more ways to reduce our impact on the main roads. We moved insurers in 2018 to HDI who we share our telematics performance with to further encourage eco driving and in-turn lower our insurance premiums. As a company we will continue to develop our driver training already being Jaupt accredited we are looking to have our courses FORS approved to enable us to deliver our own courses with our driver training officer, also FORS Practitioner.
As a group we actively promote FORS across our Social Media pages (https://www.facebook.com/welchsspecialistmovements) and dedicate a page on our company websites (https://www.welchgroup.co.uk/the-welch-group/fors). We hold FORS information in each of our reception areas with the FORS logo widely seen on our email footers along with signage on our vehicles and letter head paper. Where possible and when engaged in meetings with possible subcontractors, even customers we promote the standard.
Since joining FORS this has given us the confidence to make any changes and operations improvements to constantly strive to make us safer and greener. This also gives us the opportunity to fully engage with our staff more as a team and this is our aim to continue
improving and setting the standard.
Section 11 – FORS members' feedback questionnaire
Please could you take the time to complete a short questionnaire and provide feedback about FORS. Please note all answers you provide will be strictly confidential and will only be used by FORS to help us to improve the scheme. To access the survey, please click the link here:
https://www.snapsurveys.com/wh/s.asp?k=15390800631
*Please note: All published FORS Gold case studies have been submitted by the accredited company named above and transcribed verbatim