West Coast Haulage Limited is based at Hengoed in South Wales and was established 21 years ago with six eight-wheel tippers. With diligence and determination, the company has built an enviable reputation within the aggregates and muck-shifting sectors as being an exemplar haulier with an ultra-modern fleet driven by highly professional and well-trained drivers. The Managing Director David Sexton, explains how the FORS standard has assisted the company by encouraging a positive culture of compliance, change and efficiency.

The company has taken a pragmatic approach to its fleet renewal programme, this has resulted in tangible reductions in carbon, NOX and particulate outputs. Using the FORS standard to assist the company in its procurement processes the company embarked upon a radical fleet renewal scheme to facilitate this. FORS has enabled the company to reduce fuel consumption by some margin. There has been a further reduction in collision frequency to zero, thanks to the FORS SUD and Work-Related Road Risk courses, the company has also seen the elimination of PCN's issued largely as a result of improved driver training and emphasis.
West Coast Haulage Limited heard about the FORS standard following discussions with clients and industry contacts. The company then set about aligning its processes and procedures with the FORS standard, the focus and emphasis being to manage and maintain that which has been achieved whilst not standing still.
The initial bronze assessment was passed at the first attempt, the measures required were developed and with additional FORS guidance West Coast Haulage Limited was able to enhance these and develop strategies for the future and reinforce an existing culture of compliance and safety.
Once West Coast Haulage Limited were bronze accredited we then took advantage of the FORS toolkits, training and other resources including PCN management and SUD training. The company then set its sights even higher, achieving and maintaining silver and ultimately gold.
West Coast Haulage Limited Managing Director; David Sexton, explains, 'Maintaining the momentum of our FORS journey through our renewal of the Gold accreditation shows our continued dedication to continual improvement at every level. Our policies and procedures remain organic for the collective purpose of improving safety and the environment for the benefit of all'.
Attitudes to vulnerable road users and other road users in general have improved immensely amongst drivers and staff, largely attributed to drivers and staff attending workshops, toolbox talks and safe urban driving courses. These changing attitudes have manifested themselves positively by the collision frequency falling to zero and the smoother driving styles promoted by the driver training have resulted in a lower fuel burn.
West Coast Haulage Limited Managing Director, David Sexton states; 'The FORS Gold accreditation shows our clients that we take our responsibilities seriously. This gives our clients confidence that our operations are safe and compliant, sharing the same values as them. This is certainly a facilitator to winning work'.
West Coast Haulage Limited had the drive and ambition to progress through the FORS standard in order to set it apart and above other operators. This then set a foundation from which to build with the Bronze standard and use the Silver and ultimately the Gold standard as clear structures from which to work and improve upon.
Operations are generally undertaken on site at major road building projects away from other vehicles and parking restrictions as such the risk of conflict with other vehicles and encounters that could result in the issue of a PCN.
| | | | |
| --- | --- | --- | --- |
| | MPG | Incidents per 100,000 Kms | Number of PCNs |
| Jan-Dec 2016 | 8.12 | 0.0002 | 0 |
| May-Apr 2018 | 8.59 | 0.0000 | 0 |
| Percentage improvement | 5.91% | 0.00000006 | 0 |
West Coast Haulage Limited and its clients undertake regular Safety Critical Medicals with drivers in order to identify any medical, wellbeing or dependency issues which could jeopardise road safety, these employee encounters are also used to promote general health and wellbeing. If a driver is found to have a safety critical medical condition then they are referred to their GP and prevented from working until the issue is under control.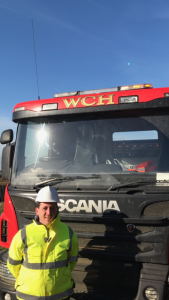 West Coast Haulage Limited has engaged in a wide range of local projects to promote the aggregates sector and the industry at large ranging from attending local events, schools and colleges to job fairs with the clear aim of appealing to a broader demographic.
The company has undertaken noise assessments at the Hengoed operating centre and noise levels were found to be well within permissible limits on every occasion. In addition, the operating centre is away from domestic dwellings, schools, hospitals and retail establishments. All vehicles are the latest state of the art Scania tippers which are fitted with noise abatement equipment.
Due to the arduous nature of our operations, modal shift would be impractical, we do however assess different modes with clients at each site to determine practicality on a case by case basis.
There is an ongoing programme of fleet renewal, vulnerable road users are actively considered at all times during the specification process by adding technologies such as 360-degree cameras, side scan and nearside proximity warning systems. The company is awaiting delivery of the new Scania low entry cab demonstrator with a view to improving vulnerable road user safety whilst reducing the risk of falls from height for drivers. We have recently taken delivery of an additional batch of state-of-the-art Scania tippers. West Coast Haulage Limited encourages others to take advantage of the benefits that FORS can bring not only to suppliers to the aggregates, muck shifting and road refurbishment industry, but to all road users.
It is imperative that we are maintain momentum at West Coast Haulage, by raising the bar higher year on year by maintaining and exceeding and promoting the FORS Gold Standard with a common, collective goal across all aspects of our operation.
Welcome visit our website