West Horsley Dairy is a family business based in Woking, Surrey delivering Food Service 'not just milk' to the catering trade. My name is Roger Heels I am the Operations Manager.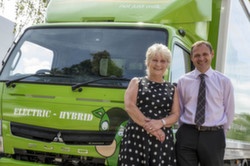 We first encountered FORS in 2008 at the Commercial Vehicle Show. We saw there was an opportunity to be publicly recognised for being a professional Operator. The Bronze audit was far more detailed than we expected but we passed & looked to progress by restructuring our processes. We sent our transport managers on the first FORS workshops and realised the benefit of general & specific training on offer.
"FORS helped us develop our driver training program." – Philip Colton -Joint Owner
For drivers Its never easy sitting them down and teaching them new tricks but using the FORS e-learning modules has really helped,
 'They are first class training products, especially the Cycle Safety elearning course." – Transport manager Ian Finch
We realized that we could use Silver & Gold FORS to market our business as well as keep us focused on the environmental impact of out fleet. We have continued to see success with improving MPG figures.
| | | | |
| --- | --- | --- | --- |
| | Average Fleet MPG | CO2 Output | Incidents per 100'000kms |
| Jan-Dec 2013 | 17.3 | 915t | 1.1 |
| Dec 17 to Nov 18 | 18.5 | 780t | 1.01 |
| Percentage improvement | 6.9% | 14.75 | 8% |
Our Improved MPG & CO2 Output have come from increasing our vehicle productivity & miles per delivery figure. This has lead to further trucks & vans coming off the road.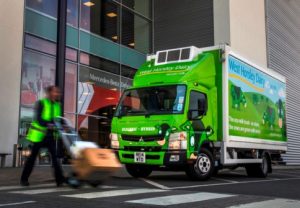 Our incidents per 100'000km have decreased even with our reporting being far more detailed now compared to 2013, we are recording all damage only incidents far more accurately and investigating using techniques learnt from the FORS Collision Management & etraining workshop. We've recognised our risk areas and our currently year on year improving our incident rate.
Driver health and fitness reviews are now very much part of our employee induction process, with all staff scheduled to be reviewed every 3 years rather than 5yrs with the dates programmed into Outlook for email prompts. In 2018 deteriorating eye sight was the main issue picked up and dealt with.
We actively offer a funded apprenticeship with all 1 year service employees from the warehouse or van drivers, offered the chance to enter our LGV driver programme. We also have a policy of recruiting warehouse operatives from local colleges onto our QCF2 Warehouse apprenticeship scheme leading onto driver training on completion.
Our business is primarily an early morning business, which requires all our employees to be aware of the noise they make when operating at our centre and when delivering at customers premises. We continue assess the dBA noise values of all our activities which are included in our induction programme and are shared with drivers via end of shift tool box talks.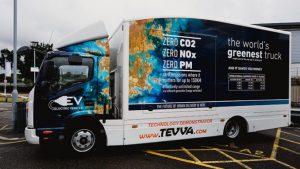 To continue to reduce fuel consumption, reduce CO2 and to deliver quietly, our future involves running electric trucks. We've carried out a comprehensive assessment on whether we can run pure electric into London and still enjoy sufficient payload and battery range. We require a range of in excess of 120 miles (Woking to Central London RTN & deliveries), capability to run a chiller unit, minimum 3 tonne payload & a 5 year life meeting or improving on a diesel equivalent truck.
Our fleet vehicle needs to have the facility to transport chilled/frozen goods as well as ambient product so there is need to propel the vehicle as well as operate a refrigeration unit. We have looked again at what is currently available in the market place and have placed an order with Tevva UK for a 10 tonne plug in electric truck which meets our criteria.
The vehicle will come into service in May 2019 & a 10 tonne vehicle allows us to maintain the payload we require on a vehicle not much larger than a 7.5t. We will be fitting a Eutectic/Isotechnik chiller body on the rear which does not need a drive from the engine nor a separate donkey engine.
Over a 5 year running life with the vehicle zero depreciated our calculations suggest we can save a minimum of £30k compared to running a similar diesel powered vehicle in central London. We hope to purchase more vehicles in 2020 once we see how the Tevva 10 tonne performs in 2019.
Gold Accreditation keeps us focused on operating at the highest level we can, at all times.
Welcome visit our website