Weybridge Skip Hire Ltd is a family run company that has been operating for over 30 years throughout Surrey and Middlesex. The business continues to grow its waste and aggregates services for its private and commercial customers. Lee Adam, Head of Transport was brought into join the team in October 2017 to share his vast experience in the transport sector and move the operation from Bronze to Gold.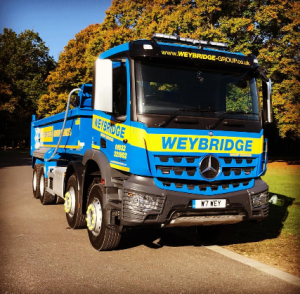 Kristian Ruse our Managing Director is totally customer centric and wanted to demonstrate our focus and drive for continued improvement and best practices in the waste services industry. He feels that being part of FORS and as a Gold member demonstrates this to our customers.
Once we were accredited Bronze, we took full advantage of the online training and the SUD gave our drivers a great insight and understanding of vulnerable road users which complimented our focus on safety and security. As part of our Silver accreditation this gave us the opportunity to review our internal processes.
FORS has been invaluable in supporting us when quoting for new business.
"Excellence simply delivered on time every time." – MD Kristian Ruse
A key benefit for the team has been standardisation throughout the operation with both processes and policies. This has improvement both safety and efficiencies within the operations. Our drivers feel more valued and professional with the additional training.
Our MD made it very clear when I joined the team that he wanted me to take the business from to Bronze to Gold to highlight to both our customers and the industry that we are highly professional, efficient and safe.
" This team has a real can do attitude and this is fully supported by a management team and its commitment to FORS." – Head of transport Lee Adam
Quantify your improvements – Performance data
| | | | |
| --- | --- | --- | --- |
| | MPG | Incidents per 100,000 Kms | Number of PCNs |
| SEP-2017 AUG- 2018 | 6.88 | 1.51 | 1 |
| SEP-2018 AUG-2019 |             N/A 1st year of data | N/A 1st year of data | N/A 1st year of data |
| Percentage improvement | N/A 1st year of data | N/A 1st year of data | N/A 1st year of data |
*Annual improvement in MPG and Incidents per 100,000 Kms
Driver health and fitness is a key part in valuing our staff so we took the decision to reduce our review window from 12 month to every 6 months. We have also implemented a new PDA system that checks the driver fitness for work every day before any work can be up loaded. We have also seen a huge increase in the understanding of mental health awareness in society and we have opened a communications channel to support our staff in understanding the signs from both an employer and an employee's point of view. The wellbeing of our staff is key so we use a virtual cycle, motivated staff leads to good service that leads to loyal customers and gives us a profitable network.
Our retention of staff is 100% over the last 12 months and is partly due to the investment in our drivers. We do have a Warehouse to Wheels program, however at this stage we don't have a suitable candidate so when we expand the operation we will be looking at ex forces or drivers that already hold a current FORS training certificate.
All of our drivers understand how noise pollution can impact on members of the public and the work force. This has been achieved by updating our policies, procedures and conducting noise assessments and also adding noise suppression equipment to our vehicles and also the chains.
We have engaged our suppliers about alterative fuelled vehicles but at this stage they are no vehicles on the market that would suit our operations, however, we are working with our 3rd party's logistics suppliers to co load and consolidate movements where possible. We have now also offered a free cycle to work scheme to all of our staff and we have reduced our staff car parking numbers to encourage staff to car share.
We are continuing to focus on offering a great service and expanding our business with both our current customer base and new customers. Due to the increase in active accounts and our commitment to running environmentally friendly vehicles, we have ordered two replacement Euro 6 vehicles for 2018 and we be looking to replace two more in 2019.
Gaining FORS Gold accreditation shows our staff and our customers how committed we are in improving road safety for our drivers and also vulnerable road users, at the same time focusing on ensuring our processes and polices support our drive in reducing our carbon foot print by employing smart driving standards.