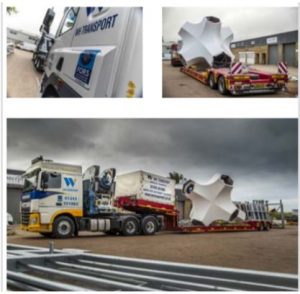 WH Transport & Heavy Haulage is a haulage company specialising in Lorry mounted crane hire and Heavy haulage, based in West Sussex. Andrew Weston, Company Owner explains how WH Transport has achieved significant company improvements through
FORS, including improved Safety standards across the fleet and to company expansions, both physically in terms of staff and vehicles and finically too.
We were introduced to FORS though our customers in 2017. Many of our customers bring steel into the centre of London and therefor were requesting that we look into FORS and achieve this to move forward.
After investigating FORS We realised it would help us to achieve best practice and benefit us by ensuring that our company is run to the highest standards and that we would be recognised for doing so. We were always conscious of keeping the day to day running of the fleet as efficient and effective as possible – whilst maintaining the highest of safety standards for members of the public and our staff alike, so FORS really was the perfect scheme to join.
WH TRANSPORT passed our initial audit first time round this showed us that the Auditing system was not as daunting in practice as it may appear on paper. We followed best standards within the industry already, so to pass the Audit encouraged us to begin the progress of achieving silver and Gold FORS.
Once we were Bronze we decided that we should quickly progress to Silver. This was due to the advancement in vehicle safety standards required. We were very keen to update the fleet with camera monitoring systems, particularly as we had now increased our workload going into London due to achieving the Bronze FORS award. Once accredited, we really made the most of the benefits on offer, in particular the FORS Practitioner workshops.
Our Transport Manager, Jenna Evison, signed up to attend all of the FORS Practitioner workshops and was very proudly awarded her FORS Partitioners Certification. These courses helped us to improve standards across the whole company. We have implemented regular Toolbox talks, and in particular we find the literature available from FORS to be invaluable. These are great for both hosting toolbox talks, and when given out to drivers as a handbook. The posters available with toolbox talks are also a great visual aid and take pride of place in our drivers room.
"The FORS Practitioner courses teach you all the information you need to ensure that you are part of a safe, efficient and conscious fleet" Jenna Evison, Transport Manager.

"I have a great sense of Pride seeing our vehicles with the FORS stickers on, knowing the we are part of a scheme that actively improves safety standards for the industry and thecountry as a whole is a great thing to be a part of" Andrew Weston, Company Owner.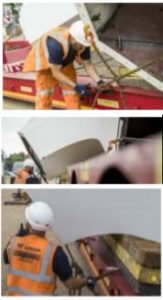 A direct improvement of FORS has been with our Driver Health and Fitness review. The FORS courses will teach you many things. One of these being the best way to ensure that our drivers are kept in a fit condition at all times, therefore minimising the risk of any incidents occurring. The first port of call for this is to include a fitness questionnaire/assessment as part of an overarching induction process into the company when a new employee joins us. We learnt thorough FORS that the best way to keep records current, is simply to re-issue the health questionnaire yearly – for drivers to complete. This questionnaire is then reviewed by our Transport Manager to ensure that Drivers have no underlining health conditions which could adversity affect the safety of our drivers, colleagues or members of the public.
In order to make continual fleet improvements we have already purchased an additional Euro VI in November, and we will be purchasing a further Euro VI vehicle in the coming months – this will then make our entire fleet Euro VI.
We positively promote FORS daily. We include the FORS logos on all company stationary, including Letters, emails, delivery notes, payslips etc. And we also devote a large section of our website to the FORS scheme, This includes a write up explaining FORS, so that ask visitors to our website can be informed of FORS.
FORS, as a whole, has been instrumental to our company's development over the last three years. We have advanced in each section of our business from management and compliance to vehicle and driver safety standards. We are always looking to reach the highest of operational standards, and doing so has made us vastly standout from other local competitors. This, in turn has resulted in us being awarded substantial haulage contracts for constructional steel heading into Londons many construction sites. Achieving the Gold FORS standards is the next step for us, and another large step in the right direction for the Haulage Industry as a whole.
*Please note: All published FORS Gold case studies have been submitted by the accredited company named above and transcribed verbatim