The Wooldridge Group prides itself on being a family-run business. Founded in 1975, Wooldridge has always strived to maintain the highest level of quality and service. We are committed to providing a friendly, safe and equal working environment for our staff, an efficient and economical service to our clients and regular business for our suppliers. The group continues to expand within the established businesses of Groundwork, Plant Hire, Road Sweeping, Demolition, Muck Away, Property Development, Construction and Landscape Supplies, providing customers with a broad scope of services from demolition to delivery.
The company have achieved huge reductions in fuel use / reduced CO2 emissions, lowered NOx and Particulate Matter emissions by regularly updating the vehicle fleet to newer and more energy efficient vehicles. We have also invested into hybrid vehicles and we have made designated charging points at our operating centre. If a company vehicle is involved in an accident or receives a transport related fine the driver is interviewed to find out why this has taken place and it is then logged on his personal file. We will then look to see how we can reduce the chances of this happening again, examples of methods used are driver awareness courses and even taking the vehicle away.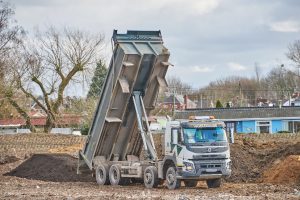 We were made aware of FORS through emails received from Transport for London. We realised it would help us to achieve best practice and benefit us by giving us opportunity to work for high end companies by promoting FORS to them. By keeping compliant with the FORS Standard the safety aspect of our operations has greatly increased. Higher profile clients have a FORS requirement.
The Wooldridge Group passed their initial audit first time around. We found this was great learning curve for the company and showed us how to become a better FORS member from here we were encouraged proceed to better ourselves with a view of achieving Silver and Gold.
"By keeping compliant with the FORS Standard the professionalism, company profile, client's management system and safety aspect of our operations has greatly increased."
Having seen the benefit of bronze as listed above silver was the obvious progression to further improve safety, efficiency and company profile. Gold, as the name suggests is the pinnacle in fleet operating standards. Gold will allow us to promote our business to the most demanding of clients and show that we are capable of operating to the highest standards of safety, efficiency and environmental awareness.
An analysis has been carried out of the fuel consumption of our commercial vehicles during the period April 16 to March 17 and April 17 to March 18 (see table below). The results show that having gained our Silver accreditation in 2017 our fuel consumption has improved by 3%. This is particularly satisfying given that our fleet size has increased by 16% in the same period and represents a reduction of more than 20,000litres of fuel for the year.
Commercial Vehicle MPG Analysis between 04/16 – 03/17 and 04/17 – 03/18
| | | | | |
| --- | --- | --- | --- | --- |
| |  16/17 | 16/17  |  17/18 | 17/18  |
|  Total litres used |  594853 |  Litres |  669792 |  Litres |
|  Total mileage covered |  1980168 |  Miles |  2293845 |  Miles |
|  Number of Vehicles |  108 |  Vehicles |  125 |  Vehicles |
|  Average MPG per vehicle |  15.13 |  MPG |  15.57 |  MPG |
|  Average L/100km per vehicle |  18.67 |  L/100km |  18.14 |  L/100km |
|  Percentage MPG improvement L/100km reduction | | | |   3% |
 In order to make continual fleet improvements we will continue to monitor alternative fuels and asses' fitness and health of drivers promoting to our customer and suppliers.
Obtaining Gold would show our clients, competitors and staff that we are committed to preforming to the highest standards with regards to the environment, driver fitness, awareness of the public and other road users.