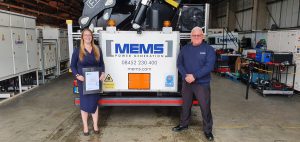 FORS is pleased to introduce the 2,000th FORS member to achieve FORS Practitioner status.
FORS member Emily Collins, Transport Administrator at Gillingham-based MEMS Power Generation, joins an elite group of 2,000 individuals who have reached FORS Practitioner status since the workshops series launch over eight years ago.
Emily said, "As a company, we are always striving to improve road safety wherever possible, from fleet development and careful vehicle selection to driver training, so I found the Managing Work Related Road Risk workshop really useful. Our goal is to achieve zero harm, and FORS helps us achieve this standard.
"Likewise, the Managing Driver Training and Development workshop gave me a deeper understanding of the need for driver training; to be constantly ensuring that both the Transport department and the drivers are on top of our game."
Attendance at the workshops helps demonstrate your own Continuing Professional Development as outlined in requirements D4, S5 and G5 of the FORS Standard.
Click here to access the list of FORS funded and discounted Practitioner workshop dates and to book your place(s). Discounted Practitioners workshops are available at £40 + VAT per person.