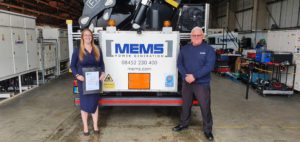 FORS member Emily Collins from MEMS Power Generation has become the 2,000th qualified FORS Practitioner.
FORS Practitioner status has become the benchmark for road transport management training, with its popularity leading to the 2,000th qualified FORS Practitioner milestone.
The training programme – currently being delivered online with regard to coronavirus restrictions – comprises a series of ten workshops leading to qualified FORS Practitioner status.  A FORS Practitioner understands what is needed to help their business meet the requirements of FORS and is best placed to embed best practice within their organisation, delivering tangible safety, environmental and commercial benefits.
Emily Collins, Transport Administrator at Gillingham-based MEMS Power Generation, becomes the 2,000thindividual to complete the training, having worked in the business for 17 years.  Emily follows in the footsteps of MEMS Transport Manager Ian Coffey, also a qualified FORS Practitioner.
Emily Collins said, "I primarily deal with booking service and maintenance for all vehicles and trailers, tachograph analysis, driver training and licence checking.  Having passed my Transport Manager CPC earlier this year, my manager and I felt FORS Practitioner status would be beneficial both to me and the business."
MEMS was founded in 1978 in Gillingham Kent, and today has over 110 employees across two key locations specialising in generator hire, with one of the most extensive rental fleets in the country. MEMS maintains the entire fleet in-house utilising their own highly skilled engineers, transport and refuelling fleets, with a manned 24-hour control room providing customers with a genuine emergency generator rental service 365 days a year.
The company has a long association with FORS, joining the scheme in 2008.  Transport Manager Ian Coffey said, "By striving to maintain the FORS standard and utilising its training benefits, we have achieved a better and compliant operational model. As FORS grew, membership of the scheme became more and more important to our existing and potential customer base.
"Emily has been working in transport alongside me and is an integral and irreplaceable part of the team. Going forward Emily will use her knowledge and qualifications to further advance our operational effectiveness."
With coronavirus restrictions still in place, FORS Practitioner training is currently being delivered online. The ten half-day units provide a complete package of fleet management learning, including managing work related road risk, safe and efficient fleet utilisation, reducing fuel use and minimising fines and charges.
Emily Collins said, "As a company, we are always striving to improve road safety wherever possible, from fleet development and careful vehicle selection to driver training, so I found the Managing Work Related Road Risk workshop really useful. Our goal is to achieve zero harm, and FORS helps us achieve this standard.
"Likewise, the Managing Driver Training and Development workshop gave me a deeper understanding of the need for driver training; to be constantly ensuring that both the Transport department and the drivers are on top of our game."
John Hix, FORS Director said, "Congratulations to Emily and the team at MEMS.  The FORS Practitioner qualification has grown from strength to strength in the eight years since it launched, highlighting the value the programme offers our members, helping them achieve their efficiency and safety goals, to raise standards for all."
For more information on becoming FORS, please click here. For information on FORS Practitioner workshops, please click here.
For more information on MEMS, visit www.mems.com
Picture caption:  Emily Collins, Transport Administrator at MEMS Power Generation becomes the 2,000th qualified FORS Practitioner, pictured with MEMS Transport Manager Ian Coffey.