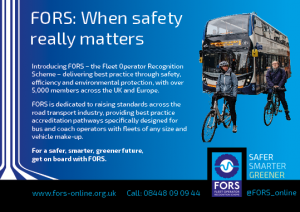 Although the tangible benefits of accreditation are well known, some bus and coach operators shy away from committing to an accreditation scheme.  So, it is time to bust some FORS accreditation myths and show exactly how the national accreditation scheme can help operators open new business doors, now and in the future.
FORS Myth #1: FORS is only for large road haulage fleets
The majority of fleets run and managed by FORS members comprise less than 10 vehicles. In addition, FORS now has many members which operate buses, coaches and minibuses – 46 in total – equating to 1,856 FORS accredited passenger carrying vehicles.  While it is often the case that larger operators have a greater resource to put towards accreditation, FORS has been tailored to meet the diverse needs of our wide membership base, which now not only includes HGVs and vans, but buses, coaches, and powered two-wheeler fleets.
FORS Myth #2: FORS is only for operators working in London
While FORS did start life in 2008 as a Transport for London (TfL) initiative primarily for those based or operating in London, it has grown into a nationally recognised accreditation scheme.  Its membership base includes some 5,000 operators with 79 per cent of those based outside London.  Many of the requirements set by FORS which started out as 'London only' initiatives such as Clean Air Zones, are now applicable across the UK. The importance of reducing emissions is central to the national conversation, and local authorities charged with improving air quality are choosing FORS to help meet emission reduction targets.
FORS Myth #3: It isn't for passenger carrying vehicles
FORS has long worked with bus and coach operators, and the latest FORS Standard v5 reflects this, including new provisions for bus and coach fleets.  For example, passenger safety policy is now required at FORS Bronze to ensure accessibility, comfort and safety for all passengers, including the need for clear on-vehicle signage and adequate access for all passengers.
FORS Myth #4: You need expensive vehicle equipment and cameras
There is no requirement to fit cameras to buses and coaches under the current version of the FORS Standard. At FORS Bronze, the entry level accreditation, blind spot warning signage are required to be fitted to the rear of buses and coaches to visually warn other road users of the near-side close proximity blind spot hazard. FORS provides bus and coach operators with a quick, easy and low-cost method of acquiring a range of quality vehicle safety and warning signage, though its exclusive FORS Vehicle Graphics Service (FORS VGS). There is currently no other requirement to fit any additional safety equipment.
FORS Myth #5: The requirements will soon be out of date
Since FORS' inception over 11 years ago, the scheme has evolved to provide accreditation for a broad remit of vehicles with guidelines which remain relevant to help future proof members' businesses. Revisions to FORS' requirements are updated every two years in the FORS Standard, and it is these changes which help all our members become safer, smarter and greener.