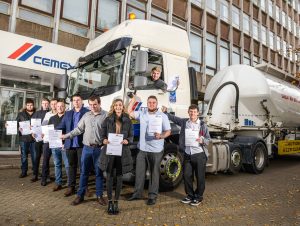 FORS would like to congratulate the drivers who have recently graduated from the CEMEX Logistics Apprenticeship scheme. These drivers are the second group to take part in the year-long apprenticeship scheme which aims to train new drivers and recruit a younger generation into the industry – the graduates have now become full time CEMEX drivers delivering cement and aggregates from locations across the country.
There is a recognised driver shortage in the UK caused by the combination of an ageing professional driver workforce and a lack of young drivers being recruited to form the next generation of commercial vehicle drivers. The apprenticeship scheme helps to address this issue by recruiting individuals aged 18-23.
The programme is run in association with CEMEX's apprentice training provider, Systems Training, and offers a pathway to gain the nationally recognised Apprenticeship Level 2 (QCF) qualification in Driving Goods Vehicles and an LGV category C or C+E licence, so that apprentices can take on the role of LGV Driver within the company.
FORS Gold members will be aware of requirement G7 Strategy for recruiting new drivers of the FORS Standard version 4.0, which states that fleet operators shall have a strategy and plan in place to engage in initiatives to encourage new drivers into the industry.
This apprenticeship scheme is an excellent example of a company actively seeking to bring a new generation into the workforce.
For further advice on how to demonstrate G7 and all other FORS requirements please refer to the 'Guidance on demonstrating the requirements of the FORS Standard' document.