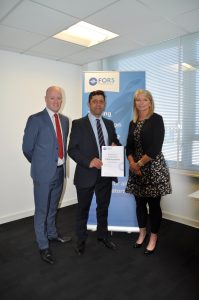 Dave Richmond, a Costain employee, from Tideway East has become the 700th FORS Practitioner, having completed all nine workshops in just five weeks.
Tideway is a FORS Champion, priding itself on promoting FORS best practice throughout its supply chain.
As a result of attaining FORS Practitioner status, Dave has gained an in-depth knowledge of all aspects of safe, efficient and environmentally sound operation, and is now rolling-out that knowledge to Tideway's supplier base. He said, "As a Logistics Manager and a FORS Champion, I have to ensure that our suppliers are reaching the levels of safety and standards of FORS."
FORS Director, John Hix, said, "I am pleased to congratulate Dave on achieving his Practitioner status. Tideway is a proud FORS Champion and the Practitioner workshops are a key part of our training," he said, "and we are delighted that Dave is the latest individual to achieve this hugely beneficial skill-set."
He added "Dave has displayed great determination and huge enthusiasm in his approach to completing this series of workshops, finishing the course in less than five weeks."
FORS Practitioner courses are fully funded for FORS members. FORS stipulates a requirement throughout progression from FORS Bronze through Silver and Gold, for operators to demonstrate that staff undergo approved progressive training and continued professional development. For more information on the FORS Practitioner workshops, please click here.