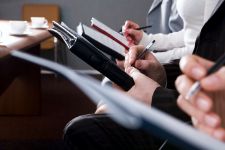 Keeping your knowledge and skills up to date in today's fast-changing world of work is vitally important, yet some people find it challenging to plan and improve their skills. For this reason, the Chartered Institute of Logistics and Transport (CILT) in the UK offers members guidance and support to help them get the best out of their Continuing Professional Development (CPD).
CILT works on the following CPD cycle:
Review – Assess your personal and professional experience and current competencies to identify priority areas for development and track what you have achieved
Plan – Set objectives for appropriate learning, together with priorities and timescales
Action – Act on your planned activities. Opportunities should bridge your skills gaps within work-based competencies and bring meaningful development
Evaluate and reflect – Keep a record of your learning activities and achievements. You should include a realistic assessment of the extent to which the objectives you set at the Plan stage have been achieved. To gain full benefit, you also need to make sure the results of your learning are properly recorded, measured and reflected upon.
FORS Practitioner workshops can be used as part of your CPD plan and provide you with the tools you need to improve your fleet management skills.
For more information, click here.