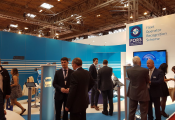 The FORS team has just returned from this year's CV Show after a successful three days at the largest road, transport and logistics event held in Britain.
This year was the first time FORS attended the show since 2008 and was the ideal opportunity for the team to showcase the latest developments and growth of the award-winning scheme.
As well as signing up many new members it was fantastic for the team to meet so many of our accredited operators and to hear your positive experiences as a FORS member.
The show also provided a platform for us to offer information about training, progression through the scheme as well as to receive operators' ideas for improving the scheme.
FORS will be attending Tip-Ex in Harrogate on 2nd-4th June. If you didn't catch us at the CV Show then come along and meet the team at Tip-Ex.