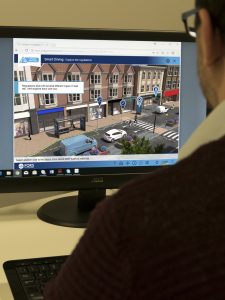 FORS Professional Development is an ongoing programme of personal development that uses a combination of theoretical, eLearning, practical and on the job training to ensure drivers and managers have the knowledge, skills and attitude to operate safely, efficiently and with consideration for the environment.
The following requirements within the FORS Standard relate to professional development:
D3 Induction Training
D4 Professional Development
S5 Vulnerable Road User Training
G6 Professional Development
FORS requirement D4 has appeared in the top two failures across approximately 3,500 audits conducted so far during 2017. Members are reminded that in order to meet D4 drivers must undertake one safety related FORS eLearning module per driver/transport staff each year to ensure professional development and vulnerable road user awareness are maintained. Cycle Safety, Van Smart and Smart Driving are the current safety related FORS eLearning modules covering safe driving that satisfy the D4 eLearning requirement.
This is in addition to the Professional Development Plan (PDP) which must be developed for all drivers and all staff involved in the fleet operation. Members must structure the PDP to include drivers, dispatchers, warehouse workers, vehicle technicians and managers. If an organisation already carries out appraisals or reviews, such processes should form the basis of the PDP. Toolbox talks and Driver CPC training (if in scope) should also be used as evidence of ongoing professional development.
Managers must refer to Annex 5 (Tables A5.1 and A5.2) of the FORS Standard for details regarding approved driver training and approved manager training which needs to be demonstrated in order to meet the requirements of the FORS Standard.
In addition to the funded training and free-to-access eLearning modules available to FORS members, don't forget to check the wide range of FORS Toolbox Talks available to help members train staff.
To find out what other common fails are identified at Bronze audit, and to avoid these, check out the new FORS audit toolkit to help prepare for your audit.