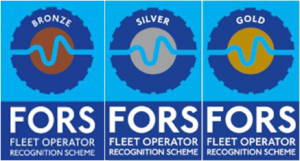 FORS members with single operating centre accreditation (SOCA) are now able to choose the new 'unified audit' option designed to simplify FORS accreditation. The new process provides members with a single re-approval date for their Bronze, Silver and Gold accreditations and allows them to submit a combined Silver/Gold evidencing form.
Options for alignment of expiry dates are as follows:
Bronze and Silver
Bronze, Silver and Gold
Silver and Gold
Members are able to select their expiry date from a given date range provided on their evidencing page. This date range is based on all of the member's current accreditation expiry dates and is made up of a minimum and a maximum date that varies depending on the number of days left on their first expiring accreditation.
The new unified Silver/Gold application form is available on the evidencing page on FORS online. This new form allows users to evidence Silver and Gold requirements S1/G1, S2/G2, S5/G5 and S9/G9 in one question each.
Under the unified audit, members meeting the requirements of both Silver and Gold will become Gold accredited with their chosen expiry date. There are a number of possible outcomes if not all of the Silver and Gold requirements are met:
Not meeting all Gold requirements but passing all Silver requirements:  Silver accredited with the chosen expiry date
Not meeting all or some of the Silver requirements: rejected application and the requirement to pass the follow-up audit for the failed requirement(s) within the 30 calendar day follow-up period. This applies whether or not  Gold requirements G2 to G9 have been met
The unified audit option is available for all members that are due for a re-approval audit or who are progressing to Silver or Gold.
Bronze operators with at least 45 calendar days left on their accreditation are able to progress from Bronze straight to Gold within one application – as long as they have 24 months' worth of operational performance data.
The Bronze audit remains a separate on-site audit which must be passed prior to the submission of Silver or combined Silver/Gold application.
To see your potential unified audit dates, visit your company dashboard.
To access the updated FORS Rules and Procedures covering unified audits, click here.
For a link to a special unified audit frequently asked questions page, click here.