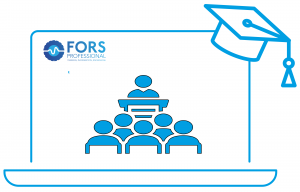 FORS will continue to deliver all FORS Professional courses via webinar until 31 December 2021, as has been the case since 2 April 2020 in response to the coronavirus pandemic restrictions in place.
To enhance the training experience, FORS is developing a secure 'virtual classroom' platform to enable the delegates and trainer to see each other and interact in a more classroom-like environment. The new platform will also include an embedded assessment made-up of ten multiple-choice questions to ensure the learning objectives have been met.
As is the case with the current platform, you will be able to attend any FORS Professional webinars using a computer, laptop, mobile or tablet, although we strongly recommend that you use a computer or laptop. You will need a microphone and webcam, as well as headphones so you can interact with the trainer. Affordable external webcams with built-in microphones are available to purchase from leading online retailers and will give excellent user experience.
Look out for more information about the new platform in the July training eNews. In the meantime, you can refer to the FORS Professional webinars FAQs for further information on how to download the current platform and register/attend a webinar.
To book a place on a FORS Professional webinar, click here.