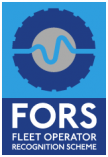 Members preparing for their FORS Silver application are reminded to ensure drivers have undertaken the appropriate training needed to meet FORS Silver requirement 'S5 Professional development'.
In March, April and May 2019, there was a 29 per cent fail rate for FORS Silver requirement S5 – a big uplift from the previous period. This is mainly due to members not maintaining their Bronze training requirements, including a safety eLearning module which is valid for 12 months and a security and counter terrorism eLearning module which is valid for 24 months. Remember, at Silver level, although you only need a Bronze re-approval on-site audit every two years, you MUST renew your safety eLearning module every 12 months.
All mandatory training requirements are listed at Annexes 1 and 2 of the FORS Standard. So make sure you have all your drivers and all other staff involved in the fleet operation trained to the correct level. This includes the new LoCITY Time to clean up eLearning module for HGV and van drivers.
All training completed can be evidenced using the FORS training dashboard, or a training matrix/spreadsheet which must be uploaded. The spreadsheet can be an export from the FORS Professional training register.
Make sure you avoid some of the common reasons for failure by following the guidance below:
Requirement
Make sure that…
S5 – Professional development

All drivers and staff involved in the fleet operation are trained to the correct level. A 10 per cent tolerance may be accepted but must be fully justified at audit
All new/additional drivers have completed training on road risk and the safety of vulnerable road users  (Safe Urban Driving/Van Smart or FORS Approved WRRR course that includes on-cycle hazard awareness)
A Professional Development Plan for all staff has been produced and uploaded
The Bronze training requirements are maintained, specifically renewing the FORS Professional safety eLearning module which must be undertaken every 12 months
A number of funded FORS Professional Safe Urban Driving, Van Smart and LoCITY Driving courses are currently available nationwide – these are free of charge for members and you can click here to book your place(s). Additionally, a number of training providers are approved to deliver FORS Professional courses – click here to check prices and dates.
For more information on how to avoid common pitfalls when applying for FORS Silver, click here.