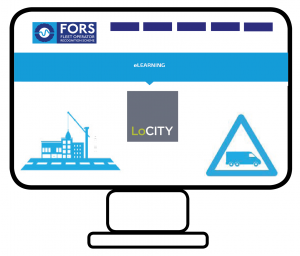 Free places on remote training courses for drivers have been released, with places available on FORS Professional Safe Urban Driving (SUD), Van Smart (VS) and LoCITY Driving.
The delivery of SUD and VS is for the 3.5-hour theory unit only. Members who are booked onto the free SUD and VS theory training will be contacted at a later date by the training provider to complete the free practical cycling unit when it is re-introduced. A temporary relaxation for meeting the Silver work-related road risk (WRRR) professional development requirement S5 was put in place earlier this month. This means that members are currently – and until further notice from FORS – able to pass the WRRR training requirement by undertaking the theory part only of SUD or VS, with the practical on-cycle element undertaken by the time of the following yearly Silver re-approval audit.
While SUD is aimed at commercial drivers operating HGVs, VS specifically targets van drivers. Drivers of both HGVs and vans will need to attend SUD rather than VS, not both.
Free places are also available on the remote FORS Professional LoCITY Driving. The seven-hour course focuses on minimising the environmental impact of vans and HGVs by reducing emissions through the use of pre-journey planning, vehicle checks, fuel-efficient driving and alternative fuels. LoCITY Driving meets FORS Gold professional development requirement G5 on fuel, emissions and air quality.
LoCITY training counts towards Driver CPC hours, however the Driver and Vehicle Standards Agency (DVSA) will not allow the upload of Driver CPC hours for SUD and VS as the remote theory part and on-cycle element are more than 24 hours apart.
To view dates and book places for your drivers on Van Smart, click here.
To view dates and book places for your drivers on SUD, click here.
To view dates and book places for your drivers on LoCITY Driving, click here.