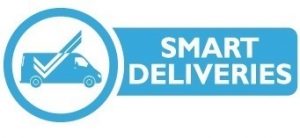 Smart Deliveries, from the FORS Professional training programme, is the latest driver-focused online eLearning module available to FORS members. Free-to-access, Smart Deliveries is designed to give both commercial truck and van drivers an immersive, online experience, while providing challenging scenarios. It replaces the existing Parking and Loading Legally module and assessment, which will cease to be available from 14 November.
Using 3D sequences and scenarios, Smart Deliveries follows a commercial driver as he makes his deliveries throughout a typical day. It aims to encourage drivers to comply more closely with the rules and regulations associated with parking and loading, and to improve knowledge and delivery behaviour, thus avoiding fines and charges.
To support operators and drivers with limited computer or no internet access, FORS is developing a PowerPoint group delivery training pack for Smart Deliveries. Look out for launch details in a forthcoming Training FORS Professionals eNews.
Smart Deliveries helps FORS operators meet the requirements M8 Transport Fines and Charges, D9 Driver Infractions and O1 Routing and Scheduling.
To access the new Smart Deliveries eLearning module, please click here.