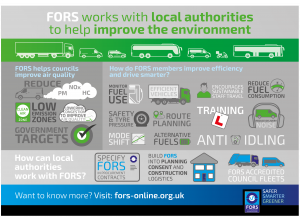 Effectively managing air quality and the environmental impact of bus and coach fleets is vital for operators working with local authorities, who are tasked with meeting strict air quality targets, while achieving best value services.
For this reason, local authorities must understand and minimise the carbon impact of all commercial vehicles they manage or those which are employed on their behalf, including bus and coach operators. This places environmental impact as high on their agenda as managing work-related road risk, and vulnerable road user safety.
FORS remit is to drive up standards for all businesses operating commercial vehicles, with progressive compliance and an emphasis on continuous development and robust driver and management training. FORS can ensure its members are as safe, smart and green as possible, and are operated by trained drivers, helping bus and coach operators meet the environmental best practice standards required by local authorities.
FORS Manager Raj Sharma said, "Local authorities use FORS to work with transport fleets of all types in their area, helping them achieve their environmental targets and champion safety by safeguarding their road transport suppliers including bus and coach operators."
"While safety is always paramount for passenger carrying vehicle fleets, ensuring their vehicles also help local authorities meet their environmental targets is now of equal importance. Bus and coach operators choosing to become FORS members will be given the tools and training they need to prove they are operating as efficiently and safely as possible, a standard which local authorities will recognise as a benchmark of quality and best practice."