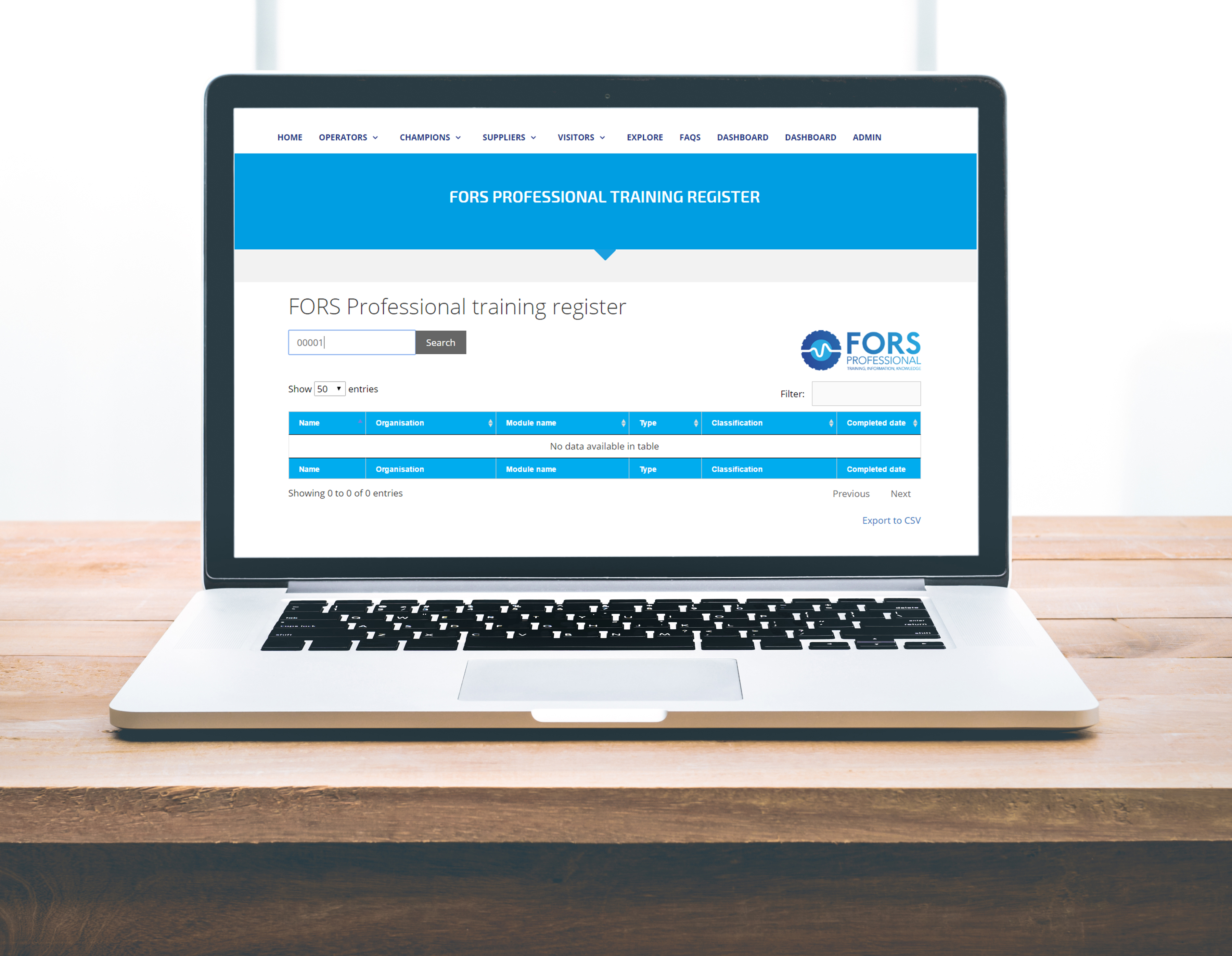 You can now download your drivers' training records using the export function on the FORS Professional training register. The exported information can be uploaded as evidence to support Silver requirement 'S5 Vulnerable road user training.'
Once you have exported the required data, you can attach the downloaded spreadsheet as proof of attendance on the evidencing system. We recommend you also refer to the FORS template spreadsheet (available to download here under the 'Getting ready' section or on the evidencing system under the S5 section) to ensure you meet all mandatory training requirements.
The FORS Professional training register includes all valid FORS Professional and approved training undertaken by FORS members, whether through eLearning or in the classroom. Once logged in, you can search the register by driver name, individual driving licence number (note that the licence number is not displayed on the register but will be found if available/correct), organisation or training name, as well as export the data to a spreadsheet.
Names on the training register appear as they are entered on the feedback form for classroom courses, and as registered on the eLearning dashboard for eLearning. So, if you cannot find a driver's record, it might be that they have used a slightly different name/misspelt their name. If a driver has recently joined your company and the record still appears under the old company name(s), this should be corrected prior to submission. If it cannot be corrected by the time of submission, the driver's record(s) should be searched and also exported. This additional exported spreadsheet can then be added to the original exported sheet. In addition, if a driver leaves your company, please request prior to their departure that they contact FORS to amend their record to the new company name. Please note that, as the training record belongs to the driver, requests for changes must be made by the driver.
The exported information will be used by the audit team to cross-reference all training records. Please ensure that the names and number of drivers listed on the exported information match the names and number of drivers declared for the company.
The process for amending records can be found in the FORS Professional training register FAQ section. All training records are dealt with and held in line with the FORS Privacy Statement.
Please note that the above can be applied for 'G6 Professional development.'
If you require any assistance, please contact the FORS helpline on 08448 09 09 44 or enquiries@fors-online.org.uk