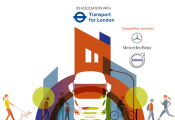 The next generation of truck designers have been recognised and commended as the Future Truck Design Awards announced its winners at the Commercial Vehicle Show at the NEC this week.
The competition, organised in association with Transport for London (TfL), has inspired budding designers from schools and universities to transform the traditional truck into a vehicle that is even safer and smarter for deliveries in busy urban areas.
Winning entrants took a variety of interesting and innovative approaches, impressing the judging panel consisting of experts from the industry and manufacturers, who saw the potential for many elements of the designs to be on the road in just a few years.
Ian Wainwright, Head of TfL's Freight and Fleet team, said: "Our first Future Truck Design Awards has been an incredible success. We've been overwhelmed by the quality, originality and innovation of the entries. I would like to thank all the entrants for their hard work, commitment and contribution to the safety debate.
"The Future Truck Design Awards has generated ideas that challenge the traditional look of the HGV, help inform future vehicle design and accelerate the process of building trucks specifically for safe, urban use."
The winning designs focused on alleviating a variety of challenges posed by traditional trucks. Visibility of other road users from the cab is a particular area for improvement, with entrants developing concepts such as rotating seats, all-round glass cabins and changing the position of the cab.
All shortlisted entries are available to view at www.futuretruckdesignawards.co.uk
The winners in full:
16-18 years
Whole Vehicle Design – One Engineering, Suffolk One
Undergraduate
Whole Vehicle Design – Ruari Kirwan-Taylor
System of Operation – James Ayre
Safety Feature (highly commended) – Alexey Andreev
Postgraduate
Whole Vehicle Design – Po Yuan Huang and Ting Tian Li
Safety Feature Innovation – Sam Philpott and Kalle Keituri
System of Operation (highly commended) – Frederik Vanden Borre