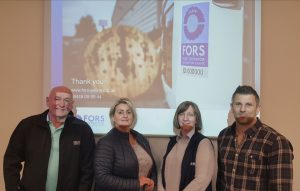 FORS is pleased to introduce four of its latest FORS Practitioners from Northern Ireland: Seamus Deighan, Colin Morrow, Angela Maxwell and Geraldine Treacy.
Peter Morrow, FORS Manager Northern Ireland, said, "FORS is thrilled to see more road transport professionals achieve FORS Practitioner status. Congratulations to them all. An increasing number of operators from Northern Ireland are choosing to become FORS Practitioners as they see the benefit this practical operational training brings to both the Practitioners themselves and the businesses they represent.
"This is great news for FORS members and the wider road transport industry," he added, "setting high operational, safety and efficiency standards as the 'norm' and promoting continuous best practice."
FORS Practitioner workshops were launched last year in Northern Ireland and the qualification continues to grow in popularity in the region. The workshops are a fundamental aspect of the FORS Professional dedicated training portfolio, designed and delivered by transport experts to provide fleet managers with the tools they need in their everyday roles and reflecting the very latest industry best practice.
Angela Maxwell from Maxwell Freight Services said, "Becoming a FORS Practitioner has expanded my knowledge of FORS through a welcoming forum, with lots of opportunities to share best practice principles with other FORS members. The workshops have really helped embed FORS into our business and prove our high operational standards to customers."
The four FORS Practitioners join an elite group of over 1,500 individuals who have reached FORS Practitioner status. As a further benefit, members attending FORS Practitioner workshops are able to claim 2.5 Continuing Professional Development (CPD) hours for each workshop attended.
Click here to access the list of FORS funded Practitioner workshop dates and locations from now to the end of December 2019.