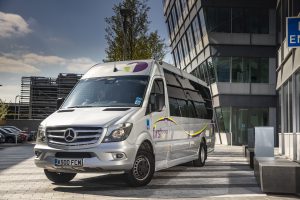 FORS, the Fleet Operator Recognition Scheme, is delighted to welcome First Choice Minibus Services onto its Governance and Standards Advisory Group (GSAG). The appointment will allow First Choice the opportunity to share its wealth of experience and to help FORS deliver best practice change for all operators in the PCV sector.
First Choice was one of the first dedicated coach operations to attain FORS Bronze accreditation in 2014. FORS Bronze is the first stage in a progressive accreditation process which sees members achieve increasing levels of operational best practice. Earlier in May, FORS announced it has strengthened its remit in the PCV sector, having already established itself as the go-to accreditation scheme in the commercial vehicle sector with well in excess of 5,000 members.
With a strong commitment to safety and environmental protection, First Choice feels FORS now has a fully-rounded package of training and benefits that meet the specific demands of PCV operators.
"We sat down with FORS to discuss not only our own requirements, but also those of the wider bus and coach industry," says Jason Thornton, Associate Director at First Choice, "In five years, we have seen the benefits of FORS accreditation, but we also felt there was scope for the scheme to benefit the industry at large." He says, "I am very pleased that today, First Choice sits on FORS GSAG alongside a group of likeminded companies and industry bodies who possess a single focus on driving-up standards of best practice."
First Choice played an important role in introducing more relevant, up-to-date and specific PCV content into the latest FORS Standard – the comprehensive reference source which defines the requirements that members must have in place to achieve FORS accreditation. Today, the FORS Standard shows all PCV operators that a great many tangible benefits are available with FORS membership.
"We believe it is our duty to demonstrate that we operate over and above our legal requirements," adds Thornton, "while taking health and safety and the protection of vulnerable road users as paramount. Since joining FORS over those years we have not only grown the business significantly we have reduced all our insurance claims and developed strong relationships with the insurance industry. This in turn has reduced our insurance costs by 25% in the last five years and included 'low claim rebates' in the last four years. This is when other operators' have seen increases in their premiums. So it makes sense in working closely with a good broker who will find you the right insurance company that will reward you for reducing risk. The insurance cost savings alone , can fund any investments in the business for your best practice commitment." he says.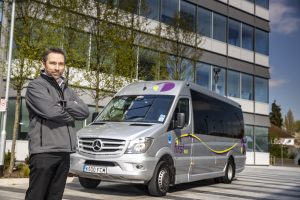 Based in Thorpe, Surrey, First Choice manages a fleet of 33 minibuses and midi-coaches ranging from 16 to 40 seats, specialising in corporate travel, business shuttles, airport transfer, school transport and private hire throughout the south-east. The company employees 47 individuals and is looking forward to its 25th anniversary in 2020.
"Ultimately," says Thornton, "we decided to get involved with FORS GSAG to help support change in the bus and coach sector. We believe we are a good example of how change can bring about real benefits. PCV operators really can invest in best practice and still grow their business – and be in a strong position for the future."
FORS is now in its 11th year of operation, has grown from a small, yet highly motivated collective of best practice-minded operators joining a new scheme created by Transport for London (TfL), to become a nationwide concern with a growing membership representing the full spectrum of the transport operating industry.