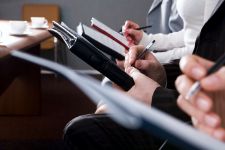 FORS is pleased to announce that additional funded places on training courses for drivers have been released across the UK. Places are available on FORS Professional Safe Urban Driving (SUD), Van Smart (VS) and LoCITY Driving courses, and are allocated on a first come, first served basis – so don't delay booking your place.
Sonia Hayward, FORS manager said, "We are happy to be able to support our members by funding these FORS Professional courses, which will not only help drivers with their professional development, but also help operators with improving their safety and environmental standards."
While SUD is aimed at commercial drivers operating HGVs, VS specifically targets van drivers. Drivers of both HGVs and vans will need to attend SUD rather than VS, not both.
Both SUD and VS courses are divided into two sections; a classroom theory unit and a practical cycling unit where drivers experience a cyclist's view of the road, and both units are delivered on the same day. SUD and VS courses meet FORS Silver professional development requirement S5.
Funded places are also available on the FORS Professional LoCITY Driving course. The course focuses on minimising the environmental impact of vans and HGVs by reducing emissions through the use of pre-journey planning, vehicle checks, fuel-efficient driving and alternative fuels. LoCITY Driving meets FORS Gold professional development requirement G5.
As an added benefit, each seven-hour course is Driver CPC accredited – this is helpful for drivers ahead of the CPC deadline in September.
To book places for your drivers on Van Smart, click here.
To book places for your drivers on SUD, click here.
To book places for your drivers on LoCITY Driving, click here.