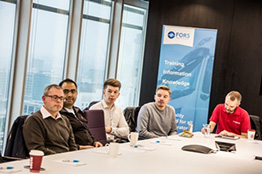 The next Practitioner Recertification workshop will be running on Thursday 14 September. As FORS Practitioners will be aware, the qualification is valid for five years, so those whose qualification is expiring between now and the end of March 2018 are encouraged to attend.
To support Practitioners with their recertification, FORS has designed a one-day workshop which provides attendees with the opportunity to renew their qualification and refresh their knowledge. Delegates will be given updates on all Practitioner workshop subjects, as well as an insight into the specific evidence needed for the new Silver and Gold requirements.
The first Practitioner Recertification workshop took place recently and was judged by attendees to be extremely useful. Geraint Davies, General Manager at John Raymond Transport Limited first completed the FORS Practitioner series five years ago when it was initially introduced. He has now undertaken the FORS Practitioner Recertification.
"It's a good platform for reinforcing existing knowledge," said Geraint. "The requirements of local authorities, as well as FORS, have changed in the past five years. We stay up to date with the latest developments. John Raymond Transport has FORS Gold accreditation, but this workshop is a comprehensive and succinct guide to the latest FORS Standard. The trainers are very knowledgeable, their enthusiasm drives the sessions and they clearly know their stuff."
Eligible Practitioners will have received an email inviting them to attend this workshop. If you think you are eligible but have not received an email, please contact the helpline on 08448 09 09 44 or email enquiries@fors-online.org.uk.
Further dates will be released later in the year for those whose certificate expires from March 2018 onwards, or who were unable to attend the previous dates.
For more information about Practitioner workshops, please click here.