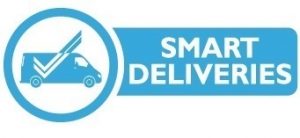 The FORS Professional Smart Deliveries eLearning module is now available as a PowerPoint group delivery training pack. Designed for operators and drivers with limited computer or internet access, the aim of this pack is to give operators added flexibility to embrace the continued professional development of their drivers.
Smart Deliveries is one of the latest driver-focused online eLearning modules available to FORS members. Free-to-access, Smart Deliveries is designed to give both commercial truck and van drivers an immersive, online experience, while providing challenging scenarios.
Using 3D sequences and scenarios, Smart Deliveries follows a commercial driver making deliveries throughout a typical day. It aims to encourage drivers to comply more closely with the rules and regulations associated with parking and loading, and to improve delivery behaviour, thus avoiding fines and charges.
This latest group delivery training pack follows on from the recent release of group delivery packs for the Van Smart, Cycle Safety, Smart Driving and LoCITY 'Time to clean up' eLearning modules. To request your free group delivery training pack/s, please email the FORS Helpline at enquiries@fors-online.org.uk.