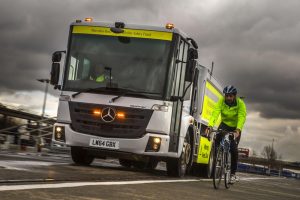 Safe Urban Driving (SUD) courses, introduced in 2011 and funded by Transport for London (TfL), are specifically designed to improve driving standards and the safety of all road users, with an emphasis on pedestrians, motorcyclists and cyclists.
The one day course involves a classroom session and a practical module spent on bikes to understand the road from a cyclist's perspective. SUD is an approved driver training course that meets the FORS Silver requirement S5 Vulnerable road user safety training. It also meets other contractual requirements such as TfL's Work Related Road Risk (WRRR) and Construction Logistics and Community Safety (CLOCS).
A report, commissioned by TfL and produced by Future Thinking, shows that an impressive 92% of drivers claimed they would change their habits to give more consideration to issues faced by vulnerable road users after the course. This number rose to nearly 98% three months after training. A further finding revealed that 99% of drivers felt that they strongly understood the issues faced by vulnerable road users three months after completing the training.
The report found that participants thought the course was well planned and executed and drivers provided positive feedback on aspects such as the location and information provided.
Drivers also agreed that their trainer was professional, approachable and a clear communicator, with 95% feeling that trainers provided interesting and engaging training. Results also show that drivers have increased their frequency of cycling after the training, particularly for leisure trips.
'This driver feedback is very encouraging in our bid to increase the safety of vulnerable road users, not only in London but across the UK,' said Anne Johnson FORS Operations Director. 'With over 55,000 HGV drivers trained* since SUD was introduced in 2011, and over 2,400 van drivers trained* since Van Smart was introduced in 2016, we really feel that FORS Professional courses do make a positive difference.'
SUD is aimed at commercial drivers operating HGVs, while Van Smart is available for the van sector, both are DCPC accredited and are funded for FORS members.
For more information about SUD and to book a place, please click here.
For more information about Van Smart and to book a place, please click here.
* Figures include drivers who have renewed their SUD/Van Smart training and attended the course more than once