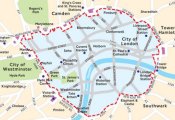 From September 2020, all vehicles will need to meet new exhaust emissions standards or pay a daily charge when travelling within central London.
If you're planning a fleet renewal, please consider the new Ultra Low Emission Zone standards and check the age of your fleet on your V5C vehicle registration documents. Some vehicles will be exempt.
To check if your current or future vehicles meet the standards, please visit the TfL website.