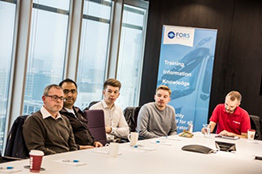 FORS Professional is totting up its training success, with more than 128,000 eLearning modules completed in the 10 years since FORS was established. Managers and drivers have filled over 106,000 places at workshops and courses run through FORS Professional upskilling drivers and fleet managers, and resulting in a positive impact on work related road safety, efficiency and environmental protection.
A commitment to continuous training and improvement must be demonstrated at each stage of a member's association with FORS, with many opportunities funded as part of membership, or free to access.  Delivered by industry experts, specific training is available through FORS Professional for fleet managers, truck and van drivers, in the form of courses and workshops, and with access to a broad variety of eLearning modules and toolkits.
For more information on all FORS Professional training, please click here. You can also contact the FORS helpline on 08448 09 09 44 or email enquiries@fors-online.org.uk to discuss your organisation's specific training needs.
For more information about the FORS training requirements – D3 Induction Training, D4 Professional Development, S5 Vulnerable Road User Safety Training and G6 Professional Development – and guidance on how to meet these, please click here.