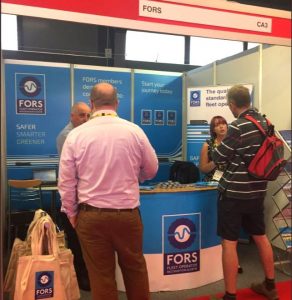 Want to learn more about FORS?
Come and visit the FORS team at one of the following events taking place in October:
FORS Members' Conference 2019 – 15 October – National Conference Centre, Birmingham 
The fourth annual FORS Members' Conference will return to the National Conference Centre in Birmingham on Tuesday, 15 October 2019.
The conference will explore how FORS can make road transport operators 'Safer, Smarter, Greener', and will provide an update on current FORS developments. This key event, which remains free* to FORS members, will offer a fantastic opportunity to network with over 450 like-minded professionals and hear from a varied panel of industry experts.
The event will be hosted by Jo Godsmark, director of BigChange and an active member of CILT (Chartered Institute of Logistics & Transport) Outsourcing & Procurement Forum. Jo is also a chair and trustee of Transaid, an international charity that seeks to provide safe, sustainable and affordable transport to communities in need across the world.
To read more on the FORS Members' Conference, click here.
To donate to Transaid, click here.
* Please note that cancellations made after midnight on Monday 7 October 2019, or non-attendance, will be charged at £130 + VAT in line with the FORS Professional Training cancellation policy. 
Transport for Greater Manchester – 18 October – Whitworth Hall, University of Manchester
Transport for Greater Manchester (TfGM) is launching a strategy for the implementation of CLOCS throughout Greater Manchester on Friday 18 October. The event will begin at 8:30am at Whitworth Hall, University of Manchester.
CLOCS is a national Standard that requires all stakeholders in the construction industry to take responsibility for health and safety which requires action from clients, principal contractors and vehicle operators.
FORS will be exhibiting at the event and will be available to discuss how FORS and CLOCS work together to drive up safety in the transport industry.
For more information on the event, click here.
High Streets Development Conference – 30 October –  Kensington Town Hall, London
Visit the FORS team at the High Streets Development Conference taking place on Wednesday 30 October at Kensington Town Hall in London.
The conference will bring together the construction and property industry alongside the public sector in hope of driving investment into the revitalisation of high streets across the UK.
FORS is exhibiting alongside CLOCS at the inaugural conference. Visit us at stand 12.
To learn more about the High Streets Development Conference, click here.