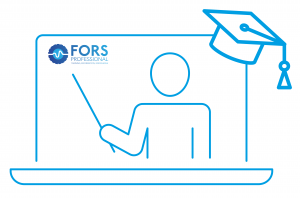 Transport for London has issued a temporary derogation until 31 December 2021 for the delivery of FORS Professional and FORS Approved manager courses to be done remotely.
This means that FORS will continue to deliver all FORS Professional manager courses via webinar, as has been the case since 2 April 2020 in response to the coronavirus pandemic restrictions in place. However, in order to enhance the training experience, FORS is developing a secure 'virtual classroom' platform to enable the delegates and trainer to see each other and interact in a more classroom-like environment. The new platform will also include an embedded assessment made-up of a few multiple-choice questions to ensure the learning objectives have been met.
The webinars will continue to be delivered by our usual trainers, with participants able to follow the presentation on their screen and given the opportunity to interact and ask questions. As is the case with the current platform, you will be able to attend any FORS Professional webinars using a computer, laptop, mobile or tablet, although we strongly recommend that you use a computer or laptop. You will ideally need a microphone, as well as headphones so you can interact with the trainer.
Alice Busnati, FORS Training Manager, said, "The FORS Professional webinars have been very successful with over 950 delegates trained since 2 April 2020. It is good to embrace this move to remote training as it provides a more flexible training solution for FORS members all over the country and is of course a more environmentally-friendly training alternative for FORS members."
This derogation means that training providers who deliver FORS Approved courses will also be able to continue doing so until the end of December 2021. Remote training criteria have been issued and this derogation will be removed from any training providers with unsatisfactory feedback or performance issues.
You can refer to the FORS Professional webinars FAQs for further information on how to download the current platform and register/attend a webinar.
To book a place on a FORS Professional webinar, click here.