My name is Simon Burgess, I operate a limited company. My company is named Burg Freight, I operate one 3.5 tonne Mercedes Sprinter. This is fitted with a rear mounted crane and towing equipment to pull my Graham Edwards 3.5 tonne trailer when required. My vehicle is fitted with front facing camera, side camera and rear facing camera. I have chosen to fit the additional equipment as I travel in and around London on a weekly basis.
I came across FORS when I was approached by one of my customers who asked me to apply to complete deliveries into their sites in the London area. We realised it would help us to achieve best practice and benefit us by ensuring I monitor my driving behaviour and fuel and emission running costs. I completed my first Bronze audit 04/04/2015. I passed this audit first time with no action points. I gained my Silver accreditation during October 2017.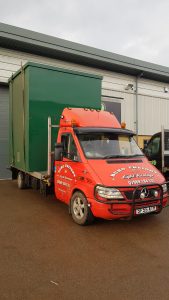 My experience of the initial FORS Bronze audit was a good experience, I passed my initial audit first time round, this showed me that I was a professional operator and has encouraged me to move further and attain my Gold accreditation. The FORS experience has encouraged me to monitor my fuel and emission data on a more frequent basis and has enabled me to attain the FORS training modules.
Once I gained my Bronze accreditation I really made the most of the benefits on offer, in particular the training modules. I am now waiting to attend the FORS Practitioner workshops later for 2018. It has encouraged me to fit extra safety equipment on my vehicle, even though my vehicle operates at 3.5 tonne. After my initial Bronze was successful I decided to move to Silver. I passed this first time also.
The key benefits for me as an owner operator is the training that is available to the operators on the FORS portal. The training is well planned and gives you a good insight into travelling through London and the interaction with the VRU.
Once I gained my Bronze accreditation for my customers they asked if I could go for Silver as their customers were asking for further accreditation. I looked at the requirements and thought this would be a good path for me to follow. I decided to fit the safety equipment to my vehicle, even though the Standard did not require me to. This has helped me gain more work as it demonstrates how committed I am to provide a professional transport operation. I have recently been involved with deliveries to Chelsea Barracks and Victoria in London.
Quantify your improvements
Performance data: I have added my data below. I have increased my fuel MPG by 10% by being more aware of the costs. I will be updating my vehicle later for 2018.
| | | | |
| --- | --- | --- | --- |
| | MPG | Incidents per 100,000 Kms | Number of PCNs |
| Jan-Dec 2016 | 19 | 0 | 0 |
| Jan-Dec 2017 | 21 | 0 | 0 |
| Percentage improvement | 10% improvement | 0 | 0 |
*Annual improvement in MPG and Incidents per 47000 miles completed.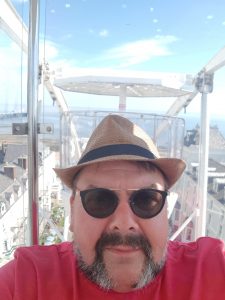 Driver health and fitness review – I am an owner operator and well aware of my health and fitness. I will be attending my CE licence medical during February 2019.
Strategy for recruiting drivers – I would not employ any drivers. However, I have attached a recruitment policy in the application.
Noise assessment – I have downloaded the Sound metre noise APP onto my Smart Phone. This has encouraged me to take assessments whilst making collections and deliveries.
Modal shift and alternative vehicles- I have made an assessment to move consignment from road to an alternative transport mode or used electric or alternatively-fuelled or powered vehicles within my operation. However, as evidenced this is not cost effective or viable for my business.
I have purchased a replacement vehicle which will have a Euro Five engine. The crane fitted has been purchased because it is operated by electricity, therefore this is reducing pollution.
To become a Gold operator will demonstrate to my customers that I consider myself to be professional operator and I consider the environmental impact of my vehicle and operation on the environment.
Search us: Burg Freight Ltd @ Google