This year we are celebrating ten years of FORS, and would like to thank our members for their commitment to setting the standard across the fleet industry through their exemplary levels of safety, efficiency and environmental protection.
FORS was created by Transport for London (TfL) in 2008. Ten years on and FORS has now become  the go-to best practice scheme in the transport sector, adopted across the UK and overseas by like-minded operators looking to demonstrate best practice within their operations.
Today, FORS includes over 5,000 members, representing over 110,00 vehicles – an achievement that reflects the ever-increasing standards expected from both operators and organisations specifying FORS.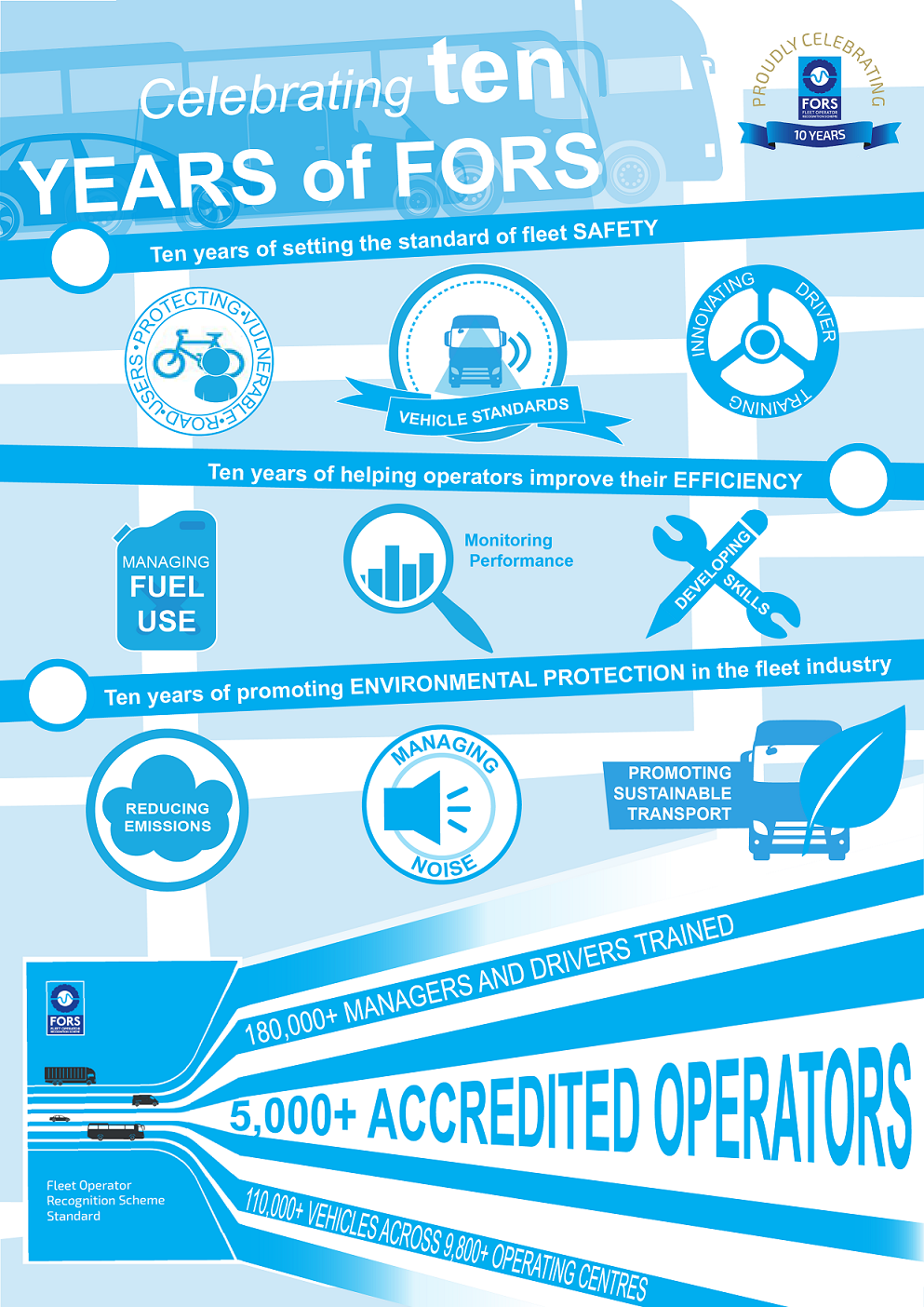 FORS Director, John Hix, believes a part of FORS success is the progressive nature of the scheme, which evolves with the demands of the industry. "When FORS began," he says, "it was clear there was a lot more that operators could do to make the roads safer and to make their fleets more efficient. Without a doubt, great strides have been made since then, and, after ten years, I see far more awareness of safety, up-skilling of drivers, and fleets operating far more efficiently.

"Best practice is not a static one-off achievement, and neither is FORS – it is about embedding a cultural change, to encourage operators to always do more. We now have in place a robust accreditation scheme and we're extremely proud that, 10 years on, members continue to raise standards – not only within their own operations, but for the benefit of the wider industry."
Remember to save the date for the annual FORS Members' Conference – '10 years of evolving best practice' – on Tuesday 16 October at the National Conference Centre in Solihull,  where FORS will be looking back at some of its achievements and recognising the contributions of FORS members in raising industry standards. The conference will also see the introduction of version 5.0 of the FORS Standard.
Invitations will be sent soon and members will be able to book up to two places per organisation on a first come, first served basis.