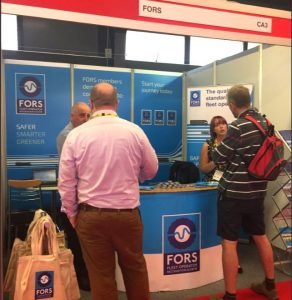 Want to learn more about FORS?
Throughout the year, FORS will be providing speakers and showcasing at industry exhibitions and conferences across the UK.
This month come and visit us at one of the following events to find out about the latest FORS news, developments, toolkits, training and members only offers:
Transport Practitioners Meeting
The 17th Annual Transport Practitioners' Meeting is on 10 and 11 July in Oxford. The meeting provides a forum for all transport planners, place makers, highway engineers and urban transport designers.
Sessions will cover the latest developments and emerging best practice on a wide variety of topics including global trends, shared economy, smart cities, transport economics and more besides.
Attendees will be given the opportunity to attend workshops and presentations as well as the chance to network with industry peers at a drinks receptions, awards ceremony, and dinner. FORS is among those exhibiting at this prestigious event.
For more on the Transport Practitioners' Meeting, click here.
Van Fleet Forum
The FORS team will attend the Vehicle Weighing Solutions' Van Fleet Forum in Chesterfield on Tuesday 16 July 2019.
FORS Compliance Manager Graham Holder will be delivering a presentation on all things FORS, including and membership statistics and version 5 of the FORS Standard.
A variety of industry bodies have been invited to the event to deliver industry updates focusing on safety, compliance and topical issues such as the electric vehicle agenda.
To read more on the event, click here.
For more information on all upcoming FORS events, click here.