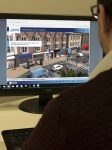 FORS has produced a new leaflet that provides a handy summary of all the FORS Professional eLearning modules currently available. This may be a particularly useful reference document when developing the mandatory Professional Development Plan (PDP) for all drivers and staff involved in the fleet operation under FORS Bronze requirement 'D4 professional development'.
As part of this requirement, fleet operators are also required to ensure drivers and line managers undergo approved progressive training and continued professional development with particular attention to the safety of vulnerable road users. This includes the requirement for all drivers to complete one safety-related FORS eLearning module every 12 months – Cycle Safety, Van Smart and Smart Driving are the current safety related FORS eLearning modules covering safe driving that satisfy the FORS D4 eLearning requirement. Completion of a safety-related FORS eLearning module is also a mandatory FORS Silver requirement for all drivers.
To download the FORS Professional eLearning leaflet, please click here.